Eccentronic Research Council ft Maxine Peake launch 100 years electronic music celebrations
Noise of Art's 100 years of an Art of Noises Launch Party with:
Eccentronic Research Council ft Maxine Peake – LIVE
Fil OK (Nag Nag Nag)
Deadstock 33s (Justin Robertson)
Jim Stanton (The Cock)
Scottee (Anti Social)
Gaggle
Ben Osborne (Noise of Art)
Your Mum
Mark Scott Wood
and more to be announced
8.30pm – 4am Village Underground, 54 Holywell Lane,  Shoreditch, London EC2A 3PQ
Get Tickets will be on sale HERE soon and are available HERE now…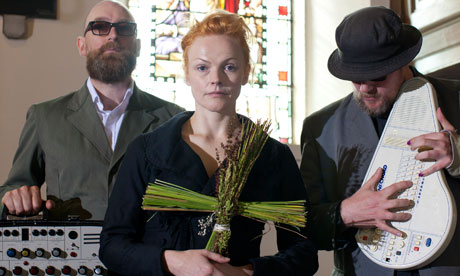 Noise of Art starts its celebration of 100 years of electronic music with a rare as hens teeth chance to see the Eccentronic Research Council, featuring Maxine Peake, live
Marking a century since Luigi Russolo, the Italian futurist, published his 'Manifesto for An Art of Noises' (1913) and designed what many hold to be the first synthesiser, the celebrations will see a series of music and cross platform art events taking place over the next year. The Launch party references the role Sheffield played in electronic music and the era defining music that came out of London's clubs at the turn of the 21st Century.
Headlining the show is the Eccentronic Research Council, featuring film, stage and TV star Maxine Peak on vocals. Amongst her many roles, Peake has starred in Shameless, Dinner Ladies, Clubbed and Silk, and is about to headline the 2013 Manchester International Festival.
This is the first time Eccentronic Research Council has played in London (having turned down every previous offer) and will be the only chance to see the cross-platform band perform their acclaimed '1612 Underture' in the Capital. If you miss this you have really missed out.
The core of Eccentronic Research Council, apart from Maxine, are Dean Hohner and Adrian Flanagan, two vintage synth enthusiasts who are themselves part of Sheffield's electronic and leftfield heritage, having been members of band's such as I Monster, Kings Have long Arms, The Chanteuse & The Crippled Claw and All Seeing Eye. They count Sheffield legends such as DJ Parrot, Jarvis Cocker and Phil Oakey in their circle.
Keeping the party going all night long, will be a core collection of London DJs from the most legendary London nightclubs at the start of the 21st Century.
Pioneering what was at times called electroclash, electro house, indie dance, new rave, disco punk, the Hoxton sound, Berlin sound and, simply, electro (but all the while trying to wriggle out of having a name at all), the clubs rebelled against the over-produced dance music of the late Nineties and looked back to early synthesiser music for inspiration; something they have in common with ECR's love of vintage analogue sounds – plenty of which will be on hand tonight.
The clubs, such as Nag Nag Nag , The Cock, Trash and Anti Social, all returned to electronic music's dirtier sounding roots, but came back with different takes.
Representing these clubs tonight will be Fil Ok, resident DJ and founder of the legendary Nag Nag Nag. Jim Stanton, DJ and creator of The Cock, one of the clubs, alongside Trash, responsible for the sound in London, and Scottee, the DJ and performance artist who, along with Buster, was behind Anti Social, the maddest and baddest new rave club of them all.
Justin Robertson, legendary DJ, Bugged Out resident and original Hacienda Acid houser, will be wearing his Deadstock 33's hat, a new nom de plume that sees him delve back to the heyday of New York anti-disco in a way that only he could. Check out his sublime new LP on Munk's seminal imprint, Gomma, to see what we mean.
Meanwhile the DJ's DJ, Italian stallion Severino, who alongside Jim Stanton was a founder member of Horse Meat Disco (the night that brought disco back), will be flying the flag for his synthesiser inventing and electronic music fathering compatriot, Luigi Russolo.
DJ and Noise of Art founder Ben Osborne will be intervening at various points, incorporating some of the electronic sounds created by Luigi Russolo into his contemporary dancefloor set. And there's more to be announced…
Details of the next event to be announced shortly.